Vapor
From HEROsector01
Parent Page: Characters

Vapor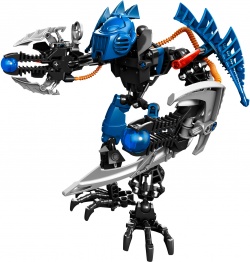 Villain
| | |
| --- | --- |
| Employer | Von Nebula |
| Weapon(s) | Vapor Launchers |
| Status | Functional |

Vapor is a villain in Von Nebula's service.
Biography
Vapor was hired by Von Nebula to be part of his criminal enterprise. He is wanted by the Mekron City police department, run by Hero Factory ally Chief Drax. The police department has offered a reward for his capture.
While on a distant planet, Vapor was challenged by Dunkan Bulk, who had been outfitted with modified equipment to be able to withstand toxic environments. Assisted by a Drop Ship Pilot and William Furno driving his Furno Bike, Bulk took on the villain.
Abilities and Traits
Like many other villains, Vapor enjoys causing chaos and indulging in his criminal activities. He is also described by the Hero Factory as a brutal warrior.
Weapons
Vapor carries two Vapor Launchers, which are modified tube-fed Meteor Blasters that fire spheres of corrosive vapor. He also has two claws connected to his arms.
Stats
Set Information
Vapor was released in the Toys "R" Us-exclusive boxed set 7179 Bulk and Vapour in mid-2010. The set included him and a slightly modified Dunkan Bulk. Of the 89 pieces, Vapor accounted for 71. His vapor launchers could fire spherical ammunition when the sides were squeezed.
Trivia
Vapor's name is spelled "Vapour" in the set name and other media not specific to the United States.
Vapor's picture appears in a "Wanted" descriptions of him in Episode 3: The Enemy Within. His prisoner number is 7179, the same as his set number. However, the stats used in the poster do not correspond to the stats on his set box.
Appearances
See also
External Links